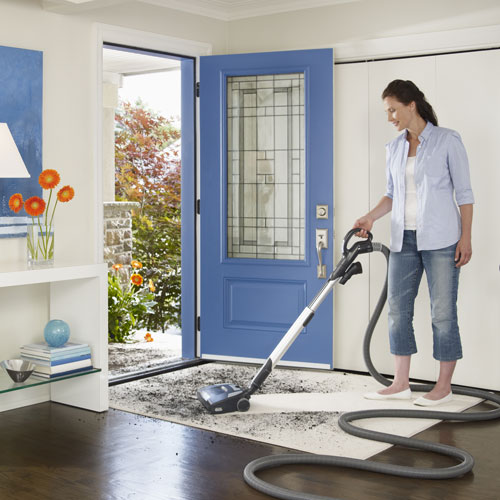 Bank's Vacuum specializes in all aspects of the central vacuum business. We sell and install all brands and provide prompt and professional in-home service and repairs. We'll troubleshoot your service issue and fix it fast. We also provide replacement parts for all makes and models including pipes, fittings, inlets, hoses, belts, brushes, attachments, accessories and more for Do-It-Yourselfers. Yes, we stock all this stuff. Visit our 16 newly remodeled showrooms today or click below now to purchase the items you are looking for. Our experts are ready to answer your questions.
We can also upgrade your current central vacuum system with a new lightweight hose or attachment kit and/or install a completely new modern system in your existing or new construction home. Make an appointment today. Call Tim toll free at 1-888-226-5782. You'll love your new equipment or simply return or exchange it. You can buy on-line and pick-up at any local Bank's Vacuum store, or we can ship your items to you the same day you place your order. We distribute central vacuum systems, parts and accessories nationwide.
What is a Central Vacuum System?
A central vacuum system, also known as a "built-in" or "ducted" vacuum system is a type of vacuum cleaner that is installed into a new or existing home or business. Central vacuum systems use specifically designed pipes and tubing inside the walls of your home to carry dirt, debris, fine dust and allergens away from your living areas to a central "power unit" commonly located in your basement, garage or utility room. You simply dump the large capacity dirt receptacle or replace the large filter bag once or twice per year. It's easy, convenient and much healthier than most regular vacuum cleaners.
Inlets are installed in strategic areas on several walls throughout your home. You simply attach a lightweight hose and cleaning nozzle to the inlets and move from room to room without having to push or pull a heavy vacuum cleaner. A central vacuum system is a powerful, convenient, and easy way to clean your home.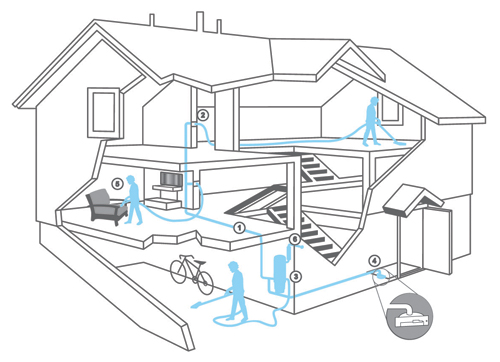 Tubing installed through interior walls, attic, basement, and crawlspaces connects the vacuum inlets to the power unit.
Each strategically located inlet valve lets you clean up to 500 square feet.
The power unit is located away from the living area, usually in a basement, garage or ventilated utility room.
Innovative accessories like the Hide-a-Hose and Vacpan can be incorporated into the system for additional cleaning ease.
A variety of cleaning attachments including crevice tool, dusting brush, upholstery tool and bare floor brush tackle all cleaning needs.
Exhausted air goes directly outside or passes through a HEPA filter system so you and your family breathe cleaner, healthier air.
Benefits of a Central Vacuum System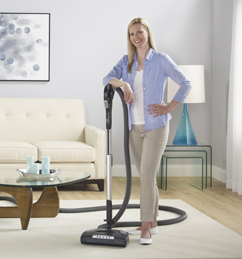 A Clean You Can Trust
Deep cleaning suction power removes 100% of contacted dirt and debris from every surface. A central vacuum system can provide up to 50% more performance than an upright or canister vacuum cleaner.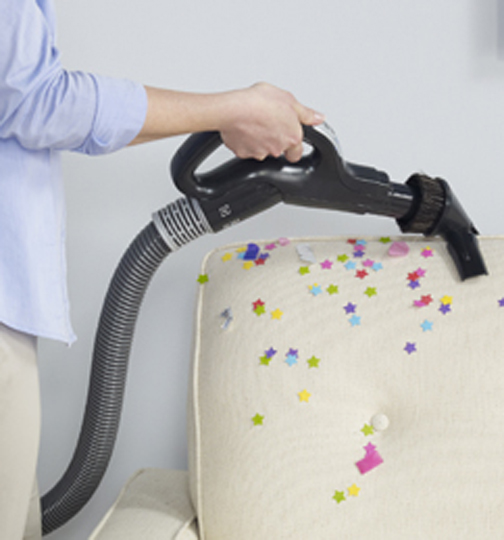 Lightweight Control
A lightweight hose and handle lets you move easily from level to level, floor to ceiling and up the stairs without dragging a heavy vacuum cleaner. The average vacuum cleaner weighs 15 lbs. while the average central vacuum hose and handle weighs only 7 lbs.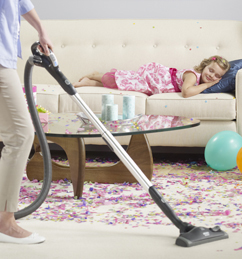 The Quiet Way to Clean
With the motor located away from the living area, the quiet hush of airflow is all you hear. Vacuum when you want, without disturbing anyone's activities or sleep. Central vacuum systems are "whisper quiet" so you won't miss that important call or text.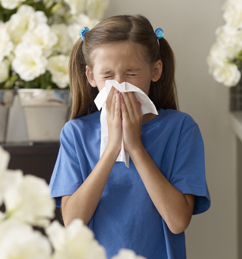 A Healthier Home
Central vacuum systems are often recommended by allergists for removing pollutants from the home. Research has revealed that using a central vacuum system can improve indoor air quality and significantly reduce allergy symptoms.
Central Vacuum Service
Does your central vacuum system need service or repair? Do you need new or upgraded equipment? Bank's Vacuum is your trusted local source for in-home service, repairs, new and existing home installations and retrofits. Click the button below to contact or make an appointment with our Central Vacuum Experts today.
Detroit Metro Area*
Ann Arbor, Auburn Hills, Belleville, Birmingham, Bloomfield Hills, Brighton, Canton, Chelsea, Clarkston, Commerce, Township Dexter, Farmington, Farmington Hills, Grosse Point, Grosse Pointe Woods, Howell, Jackson, Keego Harbor, Lake Orion, Livonia, Lyon Township, Milford, Napoleon, Northville, Novi, Pinckney, Oakland Charter Township, Orchard Lake, Plymouth, Rochester, Rochester Hills, Royal Oak, Saline Shelby Township, South Lyon, Oxford, Sterling Heights, Union Lake, Troy, Walled Lake, Waterford, Whitmore Lake, Wixom, Ypsilanti, and all other Metro Detroit Area Cities not listed. Only sold within 100 mile radius of Metro-Detroit.