Having a vacuum cleaner is a must, but how do you determine which one is best for you?
Vacuum cleaners are crucial to workplace and household cleaning. Vacuums were invented to save time, make cleaning easier, and make life much simpler. More efficient vacuum cleaners are now available thanks to advancements in technology.
The popularity of cordless vacuum cleaners has exploded in recent years, and it's easy to see why. Many are lighter, smaller, and more user-friendly than corded versions. Although corded vacuums are more powerful, cordless vacuum cleaners can make the work a lot easier.

Here at Bank's Vacuum, we explain all the advantages and disadvantages of cordless vacuums. We stock, display, demonstrate, and explain a wide range of cordless vacuum cleaners in our stores. You can actually try and compare all brands and we'll help you pick a good one no matter how tight your budget.
The type of carpet and floor surfaces you have and the size of your place should be taken into account when you start searching for a vacuum cleaner. Some vacuums are designed for use on carpets, some are better for hard surfaces, while others include a wide selection of attachments to assist you in getting to those hard-to-reach nooks, crannies, and stairs.
Lightweight
A lighter vacuum cleaner has obvious advantages. The lighter weight translates to better portability, usually making it easier to move about the home. Although this is not an absolute truth, some heavier vacuums can be easier to use than those that weigh less. Cordless vacuum cleaners tend to be lighter, smaller, and more compact than traditional upright vacuums.
Lightweight vacuums can also make it simpler to clean hard-to-reach places, such as beneath tables, chairs, and couches.
Flexibility and Quiet Technology
Cordless vacuums, despite typically not being as powerful as corded vacuums, offer a number of other potential advantages.
One is flexibility. Naturally, cordless vacuums can go places that corded vacuums can't. You can add an extension, but, at the end of the day it's a lot easier, quicker and more convenient to take a lightweight cordless vacuum wherever and whenever you need it.
Another is that there are numerous modern cordless vacuums which offer relatively quiet technology. In some instances, homeowners consider this beneficial to keep volume down - especially if you have vacuum shy cats and dogs, or do your cleaning when others are sleeping.
Tangle-Free Convenience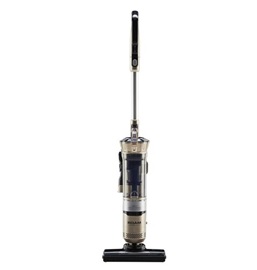 The absence of a cord/cable makes the Riccar Roam Cordless Broom Vacuum very simple to travel about the house without getting stuck on furniture or having to switch outlets when you go into a different space.
As you move across each room, you no longer have to be concerned about tripping over the cord.
If the vacuum can fit, you're free to roam anywhere you choose, hence the name. The Roam has a rotating brush roll and a polishing strip to quickly clean bare floors. The Roam's rotating nozzle makes it easy to maneuver past furniture, floor lamps, and beneath chair and table legs.
When not in use, the Roam is always kept upright by a locking mechanism. Using its charging dock, your Roam will always be ready for action.
The question is: which is better, a corded or a cordless vacuum?
The determining factors are your intended use and your wallet's willingness to contribute. With cordless vacuums, you can move the machine about the house with ease.
It could be better to use a corded vacuum if you have a lot of pet hair, thick carpets, and above average activity in your house. Corded vacuums also still clean better and last longer than cordless vacuums.
With its high-capacity battery and great performance, the Simplicity Freedom Cordless Upright is a classic example of the new-era cordless models. It's impossible to make a mistake if you buy this piece of art. It's simple to put together and take apart. The roller brush is easily removable for pet and human hair maintenance and high filtration HEPA bags help allergy sufferers.
Storage capacity, space requirements, cost, and anticipated use all factor into your decision. Also, the type of vacuum cleaner you buy will of course depend on your budget.
As technology improves, it's likely that the number of people who want to learn about cordless vacuums will grow.
At the end of the day, though, whether or not a corded or cordless vacuum is better for you will depend on your needs, and what you intend to use the vacuum for. That's one of the ways that Bank's Vacuum can help you. Get in touch with our helpful staff by phone at 888-226-5782 or "Ask the Experts" online - we'll help you find a vacuum that works precisely for your needs!