High-end vacuum cleaners can last 20 years or more when properly cared for.
Just like your car, lawnmower, or HVAC system, maintaining and servicing your vacuum is the key to longevity. Read along for our Bank's best practices in maintenance and regular services.
How Often Should You Service Your Vacuum?
All vacuum cleaners come with a manufacturer warranty that covers mechanical and electrical defects but the manufacturers always recommend additional preventive maintenance and service including tune ups and cleaning.
The best advice we can offer is to keep as closely as possible to the official recommendations in the owner's manual. Otherwise, it's generally a good rule of thumb to have your vacuum cleaner serviced at least every 12 to 24 months, whether you think it's necessary or not.
Having your vacuum serviced will help you catch potential issues before they become real problems. For instance, if your motor is failing or close to burning out and you catch it before it does, you may be able to save money on a minor repair. If the motor burns out, replacing it can potentially cost as much as replacing the vacuum entirely - though that's just one example.
Catch issues before they occur and you can perform preventative maintenance instead of paying for much more costly vacuum repair services.
How to Choose a Vacuum Cleaner Service Company
There are numerous ways to assess the qualifications of a vacuum cleaner service provider. One is through accreditation or authorization. Bank's Vacuum has a large staff of factory-authorized service technicians available to complete repairs and maintenance a huge number of brands, including but not limited to Bissell, Miele, Simplicity, Dyson, Kirby, Dirt Devil, Sanitaire, FilterQueen, Riccar, Hoover, and many others.
Also check to see whether or not the service provider uses genuine manufacturer parts on repairs. At Bank's Vacuum, we have 16 warehouses and access to over 30,000 parts. We're efficient, too. We not only stock the parts at our local stores; most special orders placed online by 3 PM EST will arrive the following day.
You should also look for some sort of warranty or guarantee on your repair. At Bank's, we have a 100% customer satisfaction guarantee and most manufacturers trust us to perform their warranty repairs, regardless of where the vacuum was purchased. You should too. It's what we've been doing since 1956.
Price, level of service, and timeframe are also legitimate considerations. For one, we offer some of the lowest repair rates in the industry. We offer a $19.95 "Quick Fix Special," along with "Basic Tune-Ups" and "Full-Service Detailing." We're proud to offer some of the lowest rates in the industry for vacuum cleaner service and repair.
Not only do we provide the level of service you need at some of the industry's lowest rates, but we're fast and efficient. We'll call you the same day (or the following morning) with a detailed estimate, and we can complete almost any service within 2 days - not 2 weeks - even if we need to order parts. Also, if you need to leave your vacuum with us, we'll provide you with a free loaner vacuum.
We also take care of our customers. In addition to free demonstrations, assembly, and warranty registration, we also provide free yearly inspections for our customers, along with free minor repairs, belt, and filter installations, hose unclogs, and much, much more. To learn more about the Bank's Advantage and all of the benefits that come along with being a Bank's Vacuum customer, please consult the previous link.
Signs You Should Be Looking for a Vacuum Cleaner Service Provider
Well-made vacuums from reputable manufacturers will last for many years, especially when provided with routine vacuum cleaner service. However, you should still keep your eyes open for signs that your vacuum is in need of immediate attention and not routine service.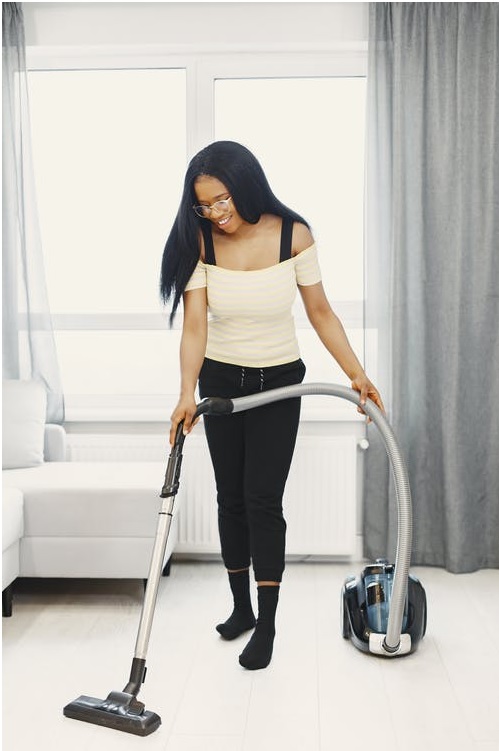 If your vacuum starts to display any of the following symptoms, visit a local Bank's Vacuum to diagnose and fix the problem.
Loud noises, squeaking, knocking, rumbling, vibrating, or whistling coming from the vacuum.
The smell of something burning can potentially indicate an issue with the motor or drive belt.
You may notice an obvious loss of suction power that makes it difficult for the vacuum to pick up debris.
If the vacuum releases clouds of dust when turning on or off.
If the vacuum shuts off randomly or won't stay powered on for long, especially during use.
If the vacuum has suffered some sort of damage, it's best to get it investigated before attempting to use the vacuum again.
Another obvious issue that would need immediate attention is if the vacuum won't turn on at all!
Tips to Protect Your Investment in Your Vacuum
While vacuum cleaner service is one of the keys to long life, so is conscientious vacuum ownership. Follow some of these tips to protect your investment in your vacuum cleaner.
Clean the base and attachments periodically.
a clogged hose or attachments can tax your vacuum's motor, so keeping them clean is imperative. After use, clean them with your crevice tool and dislodge any blockages. If your brush attachment has any loose threads or hair stuck to it, remove them and throw them away. The same goes for the roller at the bottom of the vacuum. Remove any hair or threads that have been caught up in it before and after using.
Clean or replace your filters when they become dirty.
Dirty, clogged or blocked filters can make your vacuum's motor work hard and can cause premature failure. Check your filter every week or so. Some can be rinsed or cleaned before being reused. If they need to be replaced, replace them, and never operate a vacuum without its filter. Bank's stocks them all. If they don't have the one you're looking for, they can get it faster than anyone. They can usually have it next day, and/or ship it directly to your door.
Always change the vacuum bags when full.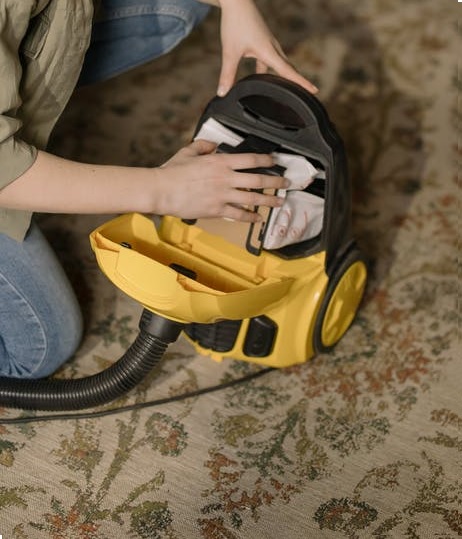 Like a clogged filter, a full vacuum bag can hinder the operation of a vacuum. Never let the bags get full and don't trust the "bag full" light. Never empty a vacuum bag, always replace them as they start to fill up to ensure your vacuum is working efficiently and appropriately.
If your vacuum has a bin instead of a bag, empty that out as frequently as needed and do not allow it to become full. If it's very dirty, wipe it clean with a damp rag (never place these in a dishwasher) and allow it to dry fully before replacing it.
Inspect and replace the drive belts as needed.
If the drive belt stretches out, the vacuum won't pick up debris as efficiently and a failed belt can cause the vacuum to stop working entirely. Inspect them for signs of loosening, wear or cracking and replace as needed. Customers that buy from Bank's receive free belt installations for the life of the vacuum. You pay for only the belt.
Store it somewhere clean, cool, and dry.
Finally, storing your vacuum somewhere that makes sense will also help preserve its utility and longevity. That means keeping it somewhere clean, cool, and dry.
Vacuums are mechanical produces with sensitive components that, when in humid conditions, can corrode. Warm, damp conditions will make this worse and can damage certain parts. Cool, dry conditions will not only protect these sensitive components, but will also help preserve the motor and belt.
Professional Vacuum Cleaner Service Is Only a Call Away!
While the previous tips can keep your vacuum running for many years, there's no substitute for routine vacuum cleaner service. Get in touch with us by phone at 888-BANKSVAC or visit a Bank's Location today.